4 Steps to Set Up Your Energy-Saving Smart Home
Almost everything in your home today can be connected to the internet and controlled remotely: your thermostat, refrigerator, TV, thermostat, sprinkler system and doorbell, to name just a few. These smart home devices can provide a lot of benefits to you as a homeowner or renter, including home comfort, entertainment, security and more.
Many smart home devices also have significant benefits for your home's energy use. If you've considered setting up smart home technology in your home as a way to reduce your overall energy consumption, here are a few steps to get you started:
1. Select your preferred voice assistant and smart home hub
A good starting place is determining your preferred smart voice assistant. This will help you control all of your smart home devices from a variety of manufacturers with just your voice (or, in some cases, through a touchscreen). While there are many voice assistants out there today, Amazon Alexa, Google Assistant and Apple HomeKit are the three major options.
If you already have some smart home devices around your home, you'll want to make sure that the voice assistant that you choose is compatible with your current devices. Similarly, if you have your eye on certain smart home devices, make sure they are compatible with your preferred voice assistant before you make the purchase. Fortunately, there are a few websites where you can check product compatibility.
All of the major voice assistants have their pros and cons, so it's important to do your research first to see which one works best for you. After you select your voice assistant, you can decide whether you want a smart speaker or a more expensive smart display, which combines the features of a touchscreen tablet with a smart speaker.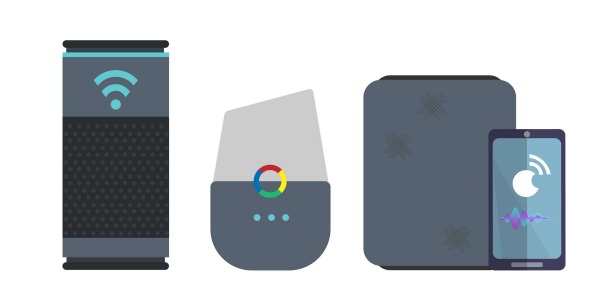 2. Add some smart plugs or power strips around your home
Once you have your smart home hub set up, an easy next step would be to add smart outlets, plugs and power strips to your home. These affordable devices are the easiest way to bring wireless connectivity to some of the non-smart devices around your home. For example, a lamp or coffeemaker connected to a smart plug can be monitored and controlled through your smartphone.
Since many appliances still draw electricity when turned off, energy that you're not even using can account for around 10 percent of your home's monthly usage! But fortunately, smart outlets are very affordable: A two-pack of the Wyze Plug can be purchased through Amazon for only $20. The more expensive Belkin WeMo Insight Smart Plug retails for around $80; however, this smart plug has advanced power monitoring capabilities that tell you how much power you're using and at what cost.
3. Swap your old bulbs out with energy-efficient smart bulbs
Next up: lighting. One of the most proven ways to lower your home's energy usage is upgrading your lighting to LED bulbs. Lighting is one of the main sources of electricity usage at home (around 15 percent), and LED bulbs use at least 75 percent less electricity than incandescent bulbs, according to the U.S. Department of Energy. Plus, they can last 25 times longer, so it could be well over five years before you have to think about replacing them again.
If you haven't made the jump to LED bulbs yet, you may want to consider smart LED lighting. In addition to the many benefits of non-smart LEDs, the smart variety may also be able to automatically turn off your lights based on the location of your smartphone (called geo-fencing) or work with built-in sensors to turn lights on only when someone is present in a room. You can also use your smartphone to turn them off remotely, and in some cases, you can pair them with your smart thermostat to automatically turn off when you're away.
4. Upgrade to a smart thermostat to take control of your heating and cooling
Last but certainly not least is the smart thermostat, which can automate a heating and cooling schedule based on either your inputs or habits and allow you to adjust your home's temperature remotely. Smart thermostats can deliver annual savings of 15 percent or more on heating and cooling, and since this is a major area of the average home's energy consumption, they can save potentially save you hundreds of dollars per year.
Fortunately, smart thermostats are no longer the luxury device that they were five to 10 years ago: There are many smart thermostats available today under $150, including a new device from Nest that retails at $130. Many power companies also offer rebates to help their customers access these energy-saving devices, so if you're considering one, it's worth it to check to see what your power company offers.
Once futuristic luxuries, smart home devices are now much more affordable and accessible today. If you haven't looked into smart home technology recently, it may be worthwhile to see what's out there and whether it can help you meet your personal energy goals.
If you want to learn more about using smart home devices to save energy at home, check out the smart home FAQ here.